ISCIS 2016 Venue
The ISCIS 2016 Symposium will be held in Krakow, Poland on October 27 and 28, at International Cultural Center in the vincity of Collegium Maius of the Jagiellonian University, the oldest Polish university. The International Cultural Center is located at the main square, in the heart of the old city of Krakow.
Kraków is one of the oldest cities in Poland and the former capital of Poland. The 13th-century merchants' town has Europe's largest market square and numerous historical houses, palaces and churches with their magnificent interiors. Further evidence of the town's fascinating history is provided by the remnants of the 14th-century fortifications and the medieval site of Kazimierz with its ancient synagogues in the southern part of town, Jagellonian University and the Gothic cathedral where the kings of Poland were buried. The urban layout of Cracow, an outstanding example of medieval architecture, is based on four core areas: the centre, around the market square; the Wawel, the hill inhabited since the Palaeolithic and the site of the imperial palace; the urban district of Kazimierz; and the Stradom quarter. The historic center of Krakow is listed on UNESCO World Heritage List.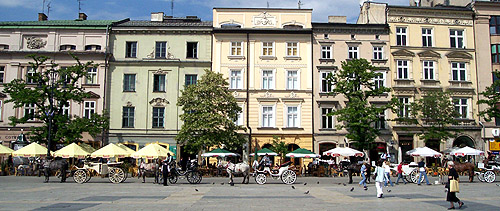 Krakow is easily accessible through two airports: Krakow Balice Airport and Katowice Airport with flights operated by Lufthans, LOT Polish Airlines, AlItalia, Austrian, Aeroflot, Finnair, Ryanair, Wizzair and others. The Krakow Balice Airport is located just 15 km from city center and is accessible by train and local buses.
International Cultural Centre exists since 1991  engages in a wide range of activities and focuses on art, multicultural events and multidimensional approach to cultural heritage.  It is also a place for education and research. The activities are based on cooperation with foreign partners, such as organisations, institutions, researchers and specialists. It holds various international conferences. 
Location of International Cultural Centre (Rynek Główny 25, 31-008 Kraków):
Pod Aniołami Restaurant -  Under the Angels is an extraordinary place. Some people say there are indeed angels in its Gothic cellars… The Restaurant, a laureate of many 1st awards and distinctions, invites you to original, unforgettable and unique banquets. The place is far-famed for its marinated meats, grilled over beech hardwood fire and other old Polish dishes. The restaurant's historical 13th century interiors and brilliant cuisine based on Polish culinary traditions will make you soak up the atmosphere of the Medieval Kings' City of Cracow.
At "Under the Angels" time stood still and one can still find the ambience of old Cracow here. Beautiful interiors and excellent cuisine attract renowned guests from all over the world.
On the 1st floor, we invite you to The Chamber of Wawel Castle's Comptroller where during private banquets one can admire 18th century polychromes.
There is also a charming year-round open garden with a mosaic fountain to which one can always drop a coin wishing to come back to this unusual place.
The restaurant is located in a 18th century building at The Royal Route, leading to Wawel King's Castle. For over three hundred years the building was the residence of Cracow's goldsmiths who also had their workshops there. 
[description source: http://www.podaniolami.pl/en/2/The-restaurant]
Orange marker - International Cultural Centre - the place of conference
Green marker - Pod Aniołami Restaurant - the place of dinner
---